DO NOT FORGET... Valentines Week please bring in pennies to buy lots of cakes for your loved ones...children will make cakes all week to sell.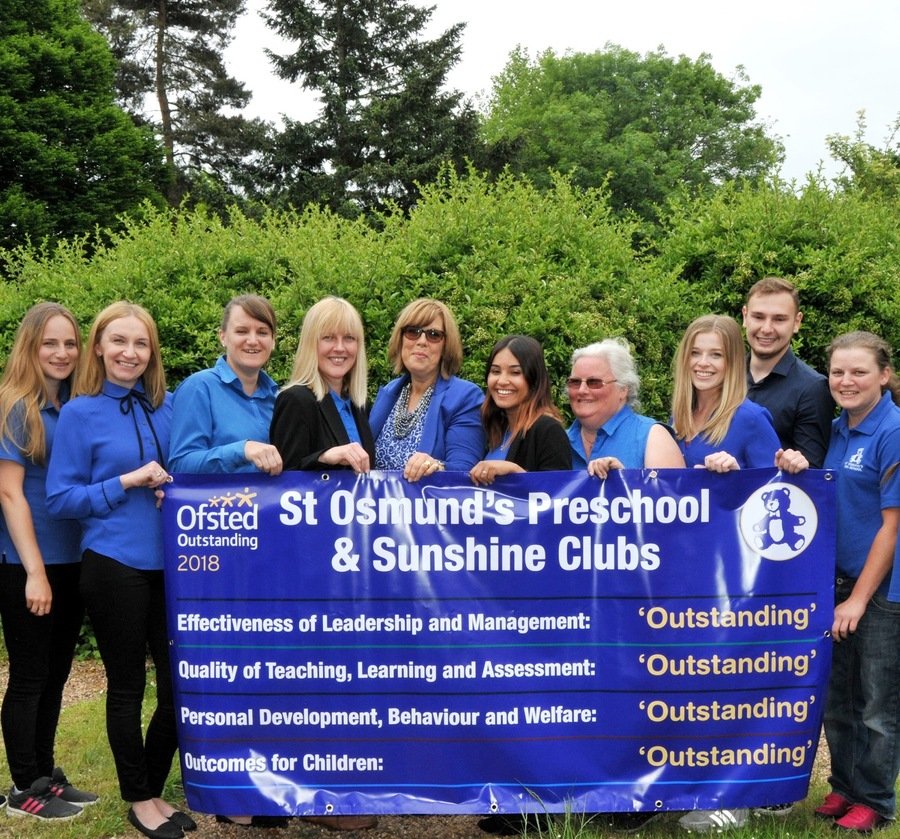 Welcome to St Osmund's Preschool
and Sunshine Clubs
An OUTSTANDING preschool that is dedicated to the learning and development of confident, happy children. Our philosophy puts the individual needs of the children at the centre of everything we do so that your child flourishes in these critical early years.
The preschool is a non-profit charity who welcomes all faiths and is situated in the grounds of St Osmund's Primary school.
Situated in the heart of the historic Cathedral city of Salisbury, Wiltshire.
STATEMENT OF INTENT
NURTURE… LEARN … GROW
St Osmund's Pre-School we provide an environment which supports and values every child, and which recognises their developing independence and individuality.
To give opportunities to inspire, discover and explore through play-based experiences.
To acknowledge that children are natural learners and communicators.
To ensure that every child will be happy and secure in our professional care.
To work together with parents to provide a positive start for children. Children to become confident, independent learners and gain skills which promote a positive attitude to learning.
To build a strong relationship between the local community, to learn about and appreciate our role as part of the national and global communities and to foster an understanding of the importance of being a responsible citizen.
PRESCHOOL DEVELOPMENT PLAN 2018-19.docx
STOP IT NOW! HELP TO STOP CHILD ABUSE
Trudy Surman Expert Panel Nursery resources
Snow days Pre-school
& Sunshine Clubs Closures
Procedures for closure due to snow.
We normally let the Primary School take the lead on whether we are open or not, however that isn't always the case as our circumstances are slightly different;
We are in an outside classroom which has an impact on the building maintaining its temperature; we have two year olds on the premises which because of their age cannot regulate their temperature yet. And in addition we have staff that travel in from different areas of the county. If we do not have enough staff in to meet Ofsted regulations we are not legally allowed to open. So for these reasons we will have to close even if the Primary school was open.
If the preschool & clubs needs to close because of snow these are our procedures;
When children are on the premises, parents will be contacted by telephone, and if necessary, a bulletin will be put on SPIRE FM

Notices will be put up at the Preschool, and two senior members of staff will be on site to explain the circumstances.

At least two members of staff will remain on the premises until all the children have been collected.
In the event of the Preschool & Clubs being unable to open in the morning, i.e. severe weather conditions or breakdown of services; a bulletin will be put on SPIRE FM before 8.00am.
Plus a notice will be posted on our Facebook page and our website- stosmundspreschoolandsunshineclubs.co.uk
If possible notices will be put up at the preschool, and a text will be sent out to all parents by mobile telephone. If you are unsure please text Mobile - 07484087287
Koala Protectors
St Osmund's Preschool have become Koala Protectors with a donation of £25. We will track our Koala Bear and receive updates from the Veterinary clinic on how he is doing.
It is so important that our children understand at an early age the responsibility they have in being 'Good Stewards' of our world.
Even without these fires, trees are being bulldozed and land cleared at an unprecedented rate. Koala populations have declined by a staggering 42% over 20 years alone and the koala is at serious risk of becoming extinct in both NSW and Queensland.
News and Events
Latest Pre-School 2016, Sunshine Clubs, School Events Events
HOLIDAY CLUBS BEGIN

17

Feb

2020

5:00 pm - 19 feb, 5:30 pm @ SUNSHINE CLUBS @ ST OSMUNDS PRESCHOOL

The children's holiday clubs begin with 17th Art Day 18th Forest Schools and 19th Crazy Creatures Visit bringing crazy creatures!
We are open today as usual for all sessions

24

Feb

2020

5:00 pm - 5:30 pm @ ST OSMUNDS PRESCHOOL AND SUNSHINE CLUBS
An Evening with the Gruffalo

03

Mar

2020

7:00 pm - 8:00 pm @ ST OSMUNDS PRESCHOOL AND SUNSHINE CLUBS

An exciting evening with the Gruffalo..hot chocolate..film...crafts.. make your own stick man and more!
Staff updates...
Emily Cope has been promoted to Assistant Manager
John Sheard has completed his Level 4 SEND.
Siddika Begum has completed her Level 5 SEND.
Staff Training Safeguarding & Child Protection 30.08.2019 - 03.09.2019 - 06.01.2020
Teaching training days - All staff had First Aid & Safeguarding Child Protection refresher training
Teaching & Learning 29th August 2019 & 06.01.2020
Anna Ephgrave taught all staff the principles of her teaching 'In The Moment Planning' (please look on our Curriculum page for more information)