SPACES AVAILABLE JANUARY 2022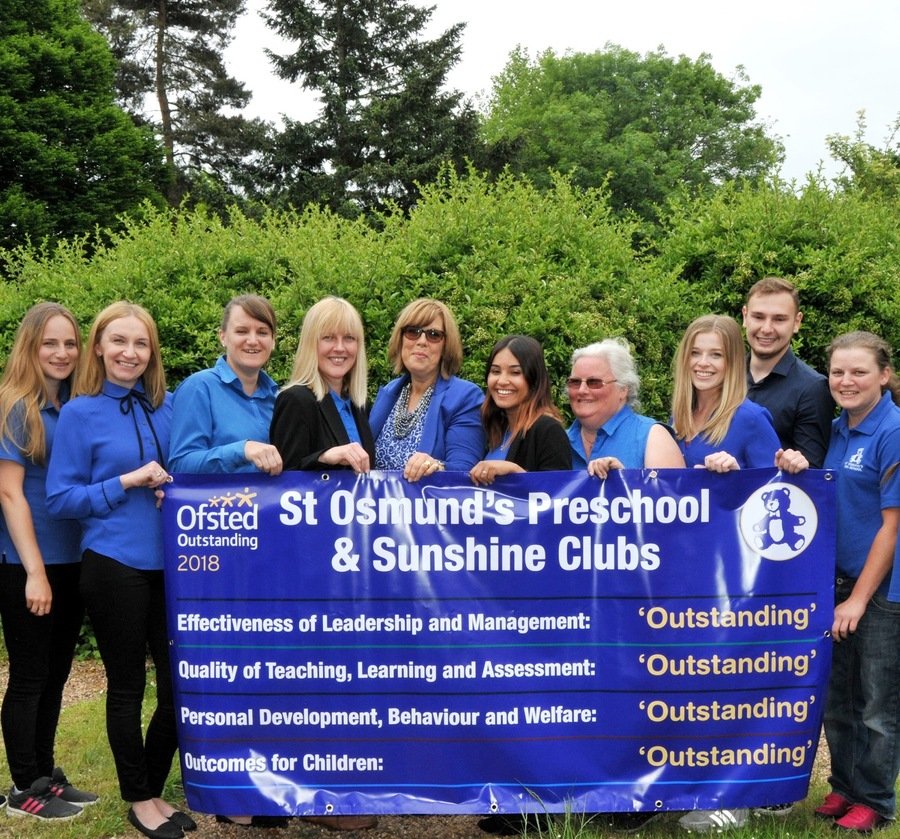 Welcome to St Osmund's Preschool

and Sunshine Clubs
An OUTSTANDING preschool that is dedicated to the learning and development of confident, happy children. Our philosophy puts the individual needs of the children at the centre of everything we do so that your child flourishes in these critical early years.
The preschool is a non-profit charity who welcomes all faiths and is situated in the grounds of St Osmund's Primary school.
Situated in the heart of the historic Cathedral city of Salisbury, Wiltshire.
Statement of intent 2020 2021.docx
NURTURE… LEARN … GROW
St Osmund's Pre-School we provide an environment which supports and values every child, and which recognises their developing independence and individuality.
To give opportunities to inspire, discover and explore through play-based experiences.
To acknowledge that children are natural learners and communicators.
To ensure that every child will be happy and secure in our professional care.
To work together with parents to provide a positive start for children. Children to become confident, independent learners and gain skills which promote a positive attitude to learning.
To build a strong relationship between the local community, to learn about and appreciate our role as part of the national and global communities and to foster an understanding of the importance of being a responsible citizen.
PRESCHOOL DEVELOPMENT PLAN 2018-19.docx
STOP IT NOW! HELP TO STOP CHILD ABUSE
Trudy Surman Expert Panel Nursery resources
En
A Preschool we may be but 2 year olds can come as you can see…
Your baby is 2 and, well, not really a baby anymore. She can speak and be understood about half the time (it's the other half that leads to exasperation). She may even be able to carry on a (very) brief conversation … which leads to some not-so-pretty forms of expression, a.k.a. whining, screaming and full-out tantrums. And don't be surprised by her compulsion to ask the question "why?" about a thousand times a day. She's just eager to learn — and even if she knows the answer, she gets a real kick out of eliciting a response from you.
Intellectually, that little brain is bursting with activity — arranging things into categories (dogs and cats are animals; pants and sweaters are clothes). Her memory is much more sophisticated than just a few months ago and she's beginning to understand abstract concepts such as "now" versus "later" and "more" versus "fewer."
Other toddler quirks may include a sudden desire for your perfectly ambulatory tot to be carried … everywhere! Chalk that up to 2-year-old negativity (If Mum wants me to walk, that's a good enough reason not to) and a developmentally appropriate ambivalence about separating from you and yet needing Mummy as much as ever. This too shall pass. In the meantime, try playing games or singing as you walk to distract your child, or ask for a special helper who can carry your shopping and make the grocery list.
More stuff you might be thinking about: making the move from cot to bed, establishing good eating habits now that her diet (and the places she may dine) are more varied and tantrums (sorry, they're just a fact of toddler life, but there are ways to head them off and to deal with inevitable eruptions).
Lastly, this is a great time to tell your tot (and remind yourself) that everybody's different, both in how they look and how they act — and that those differences should be at least respected and at best celebrated. Teaching children about tolerance helps them develop self-esteem (I accept you for who you are, therefore you accept me) and empathy.
We were lucky enough to be invited to take a small group of children to Salisbury Cathedral to celebrate the grand reopening of the Cathedral to the public. The children had lots of fun exploring the inside and being out in the Community once again. The children did an excellent job in remembering our road safety skills and how to keep ourselves safe.
CORONAVIRUS INFO FOR PARENTS/CARERS
St Osmund's Preschool is proud to say that we have remained open during these difficult times. Our preschool has remained open for key workers children over the past few months, and our preschool will remain open.
St Osmund's Preschool aims to be a supportive force within our community, we hope that through these unprecedented times our presence is felt as a support for you and your families to access should you need help. As an organisation we can signpost you to people who can help you and your families further if our capabilities are unable to fulfil your needs.
Take care, stay safe,
Trudy
CORONAVIRUS
WHAT TO DO IF YOUR CHILD IS DISPLAYING SYMPTOMS OF COVID 19
HOW TO WASH YOUR HANDS PLEASE TEACH YOUR CHILDREN.
https://www.eyalliance.org.uk/coronavirus-info-for-nurseries
Parents or carers should not come to the preschool to drop off, or collect, their child if they are unwell. If someone else is sent to collect a child the parent or carer must let the preschool know and use the child's password. This is a requirement of our safeguarding policy.
A parent or carer should not send a child to preschool if they are unwell.
If a child is unwell at preschool we would contact the parent or carer to pick them up as soon as possible. Please ensure contact details are kept up to date at all times.
Preschool have increased cleaning sessions, hand washing sessions and general deep cleaning of toys daily and an increase in available tissues .
Deep Viral cleans are carried out every two weeks, with deep cleans every evening.
Meet Our Staff
Click on the keygroup to see your child's curriculum schedule
Staff updates...
Tess Fitz completed level 2 Diploma Childcare - June 2021
Shannon Glover completed level 3 Diploma Childcare -May 2021
Staff Training Safeguarding & Child Protection 01.01.2021
Teaching training days 2021 - All staff had First Aid & Safeguarding Child Protection refresher training, Covid Infection Management training, Supporting Mental Health Wellbeing.
Teaching & Learning 29th August 2020
All staff the principles of her teaching 'In The Moment Planning' (please look on our Curriculum page for more information)
Management Training
Inspiration Leadership and Management 25/01/2021
Exploring Education Inspection Framework 26/01/2021
Defining Early Years Curriculum 25/01/2021 & 26/01/2021
Let's talk about the Learning Walk 28/01/2021
EYFS New Curriculum Training 01/07/21 09 07/2021
The Graduation this year was a little bit different. Unfortunately parents were not allowed to attend the ceremony usually in the hall, show casing all they have learnt.
However, some of the children had a lovely party and celebrations were had by all. The children received their preschool diploma in their Graduation gowns and Miss Trudy took their photographs.
Two amazing Ladies mum and daughter Sheila and Kelly. Made the 38 children who were leaving school a preschool knitted bear. I have heard from many parents that these bears are much loved by the children who received them.
The children also received from their key people a book and a Poem in their leaving pack and other goodies.
Unfortunately we were unable to host our normal end of year Teddy Bears picnic instead we ended the year by having a fundraising competition to name the St Osmund's Preschool bear.
Ewan McNeil was the lucky winner with naming the bear 'BRUCEY' . All letter heads will go out now with Brucey next to our Logo and Ewan's.
We wish the children of the Class 2020 all the best for the future! We will miss them very much and hope they return for Clubs.
Awards and Press Releases
Nativity St Osmund's Church 2019