DO NOT FORGET... Red Envelopes Donations Gift Aid week beginning 27th January - February 7th. To celebrate and buy resources in recognition of Chinese New Year culture of donating money to children.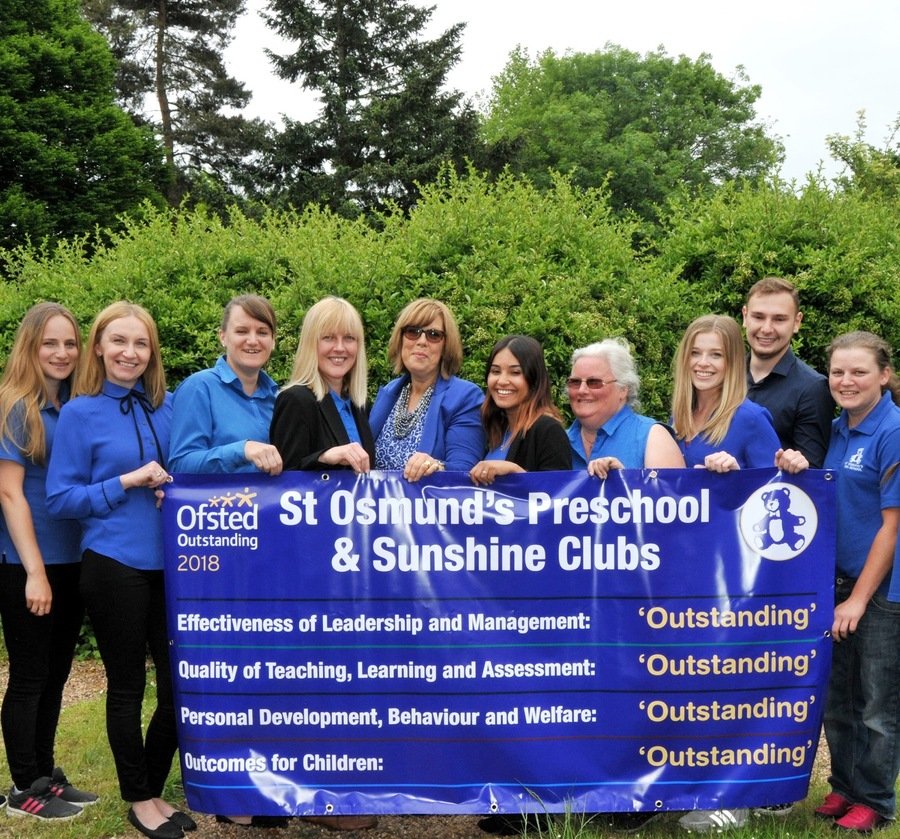 Welcome to St Osmund's Preschool
and Sunshine Clubs
An OUTSTANDING preschool that is dedicated to the learning and development of confident, happy children. Our philosophy puts the individual needs of the children at the centre of everything we do so that your child flourishes in these critical early years.
The preschool is a non-profit charity who welcomes all faiths and is situated in the grounds of St Osmund's Primary school.
Situated in the heart of the historic Cathedral city of Salisbury, Wiltshire.
STATEMENT OF INTENT
NURTURE… LEARN … GROW
St Osmund's Pre-School we provide an environment which supports and values every child, and which recognises their developing independence and individuality.
To give opportunities to inspire, discover and explore through play-based experiences.
To acknowledge that children are natural learners and communicators.
To ensure that every child will be happy and secure in our professional care.
To work together with parents to provide a positive start for children. Children to become confident, independent learners and gain skills which promote a positive attitude to learning.
To build a strong relationship between the local community, to learn about and appreciate our role as part of the national and global communities and to foster an understanding of the importance of being a responsible citizen.
PRESCHOOL DEVELOPMENT PLAN 2018-19.docx
STOP IT NOW! HELP TO STOP CHILD ABUSE
Trudy Surman Expert Panel Nursery resources
Koala Protectors
St Osmund's Preschool have become Koala Protectors with a donation of £25. We will track our Koala Bear and receive updates from the Veterinary clinic on how he is doing.
It is so important that our children understand at an early age the responsibility they have in being 'Good Stewards' of our world.
Even without these fires, trees are being bulldozed and land cleared at an unprecedented rate. Koala populations have declined by a staggering 42% over 20 years alone and the koala is at serious risk of becoming extinct in both NSW and Queensland.
News and Events
Latest Pre-School 2016, Sunshine Clubs, School Events Events
CHINESE NEW YEAR CELEBRATIONS

27

Jan

2020

9:00 am - 31 jan, 3:00 pm @ ST OSMUNDS PRESCHOOL AND SUNSHINE CLUBS

We are lucky to have several Chinese Families who will be showing us how they celebrate Chinese New year the Year of the Rat...by Dragon Dances, wearing traditional costumes, cooking Chinese food and learning how to eat with chopsticks!
FUNDRAISING COMMITTEE MEETING ALL PARENTS

07

Feb

2020

2:00 pm - 3:00 pm @ ST OSMUNDS PRESCHOOL AND SUNSHINE CLUBS

An opportunity to talk about ideas for generating funds for easter
Valentines Day Celebrations

10

Feb

2020

9:00 am - 14 feb, 3:30 pm @ ST OSMUNDS PRESCHOOL AND SUNSHINE CLUBS

Children will explore the concept of Valentines Day. Having a particular Valentine's Day is a very old tradition, thought to have originated from a Roman festival. The Romans had a festival called Lupercalia in the middle of February - officially the start of their springtime. It's the day when people show their affection for another person or people by sending cards, flowers or chocolates with messages of love. Who was St Valentine? The day gets its name from a famous saint, but there are several stories of who he was. The popular belief about St Valentine is that he was a priest from Rome in the third century AD.
CORE COMMITTEE MEETING

11

Feb

2020

7:00 pm - 8:30 pm @ ST OSMUNDS PRESCHOOL AND SUNSHINE CLUBS

To discuss strategic preschool and clubs matters
LAST DAY OF TERM

14

Feb

2020

5:00 pm - 5:30 pm @ ST OSMUNDS PRESCHOOL AND SUNSHINE CLUBS
Staff updates...
Emily Cope has been promoted to Assistant Manager
John Sheard has completed his Level 4 SEND.
Siddika Begum has completed her Level 5 SEND.
Staff Training Safeguarding & Child Protection 30.08.2019 - 03.09.2019 - 06.01.2020
Teaching training days - All staff had First Aid & Safeguarding Child Protection refresher training
Teaching & Learning 29th August 2019 & 06.01.2020
Anna Ephgrave taught all staff the principles of her teaching 'In The Moment Planning' (please look on our Curriculum page for more information)