Enter
N
PLEASE NOTE - COVID-19... WE ARE OPEN FOR THE MANY KEY WORKERS AT OUR SETTING. PLEASE EMAIL US YOUR REQUIREMENTS AND WE WILL WORK AROUND YOUR SHIFTS!
THIS INCLUDES BREAKFAST CLUBS, PRESCHOOL AND AFTERSCHOOL CLUB.
PLEASE EMAIL YOUR REQUIREMENTS EACH THURSDAY SO WE CAN BOOK YOUR FAMILY IN.
PLEASE REMEMBER IF YOU CAN KEEP YOUR CHILDREN AT HOME PLEASE DO. WE ARE HERE TO SUPPORT EMERGENCY COVER OR IF BOTH PARENTS ARE KEYWORKERS...AS WE ARE ON REDUCED STAFFING LEVELS, ONLY 6 OF US LEFT NOW!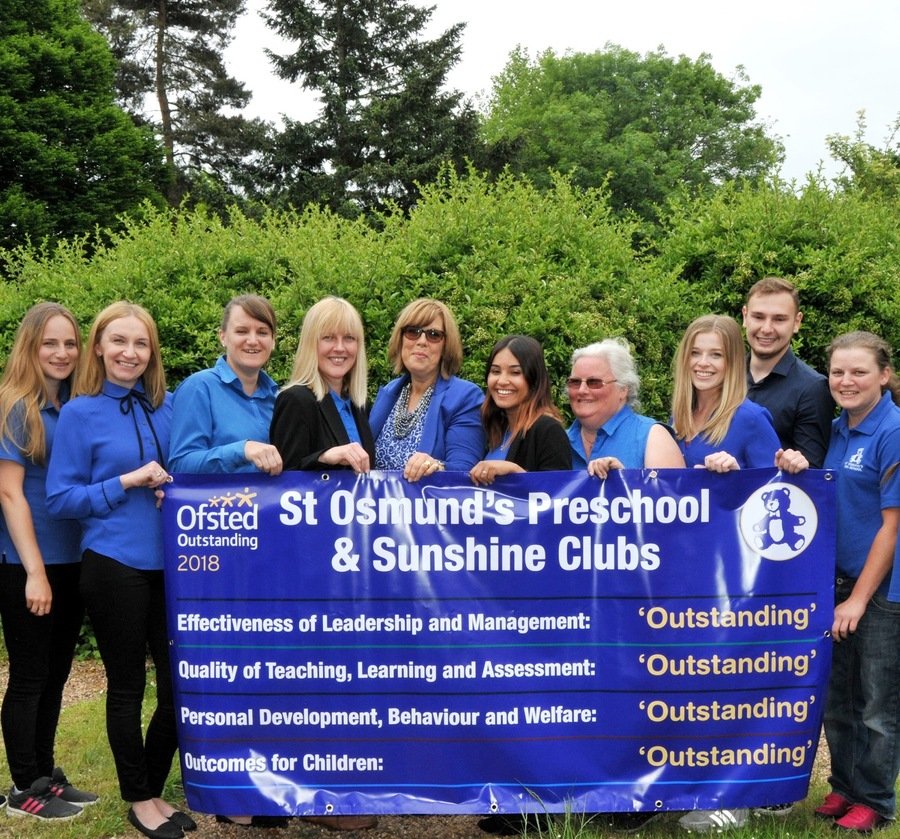 Welcome to St Osmund's Preschool
and Sunshine Clubs
An OUTSTANDING preschool that is dedicated to the learning and development of confident, happy children. Our philosophy puts the individual needs of the children at the centre of everything we do so that your child flourishes in these critical early years.
The preschool is a non-profit charity who welcomes all faiths and is situated in the grounds of St Osmund's Primary school.
Situated in the heart of the historic Cathedral city of Salisbury, Wiltshire.
STATEMENT OF INTENT
NURTURE… LEARN … GROW
St Osmund's Pre-School we provide an environment which supports and values every child, and which recognises their developing independence and individuality.
To give opportunities to inspire, discover and explore through play-based experiences.
To acknowledge that children are natural learners and communicators.
To ensure that every child will be happy and secure in our professional care.
To work together with parents to provide a positive start for children. Children to become confident, independent learners and gain skills which promote a positive attitude to learning.
To build a strong relationship between the local community, to learn about and appreciate our role as part of the national and global communities and to foster an understanding of the importance of being a responsible citizen.
PRESCHOOL DEVELOPMENT PLAN 2018-19.docx
STOP IT NOW! HELP TO STOP CHILD ABUSE
Trudy Surman Expert Panel Nursery resources
En
S
SUMMER TERM CORONAVIRUS UPDATE FOR PARENTS/CARERS
St Osmund's Preschool is proud to say that we have remained open during these difficult times. Our preschool has remained open for key workers children over the past few weeks, including the Easter half term, and our preschool will remain open for the summer term beginning Monday 20th April.
Going forward into the summer term, we are aware that many of you at home may be concerned about finances. We would like to reassure those of you who normally receive a termly fee invoice that you won't be receiving one for the summer term. To the families who pay the termly fee and are still accessing the preschool, you will only be charged for the sessions you use and for hot lunches if required.
However, as a charity organisation we would greatly appreciate a donation, during this lockdown the preschool has experienced a significant lack of financial support from government bodies. Due to this, the survival of the preschool post-lockdown is dependant on our fundraising activities and the generosity of our parents. If you would like to give a donation to the preschool then you can do so by bank transfer, any amount will be received with a great deal of gratitude.
On a positive note, we would like to offer a limited number of sessions throughout the week to children on the Early Years Pupil Premium (EYPP) and families who need additional support through child care. Please contact the preschool for more information.
St Osmund's Preschool aims to be a supportive force within our community, we hope that through these unprecedented times our presence is felt as a support for you and your families to access should you need help. As an organisation we can signpost you to people who can help you and your families further if our capabilities are unable to fulfil your needs.
St Osmund's preschool are missing our children, our families, and our community we can only wish you all the best in these unprecedented times.
Take care, stay safe,
Trudy
News and Events
Latest Pre-School 2016, Sunshine Clubs, School Events Events
PRESCHOOL AND CLUBS ARE CLOSED HALF TERM

25

May

2020

4:00 pm - 31 may, 4:30 pm @ ST OSMUNDS PRESCHOOL AND SUNSHINE CLUBS

This half term includes 3 TD days
PRESCHOOL AND CLUBS ARE OPEN TO 4-5 yrs OLDER CHILDREN TODAY

01

Jun

2020

8:00 am - 03 jun, 5:30 pm @ ST OSMUNDS PRESCHOOL AND SUNSHINE CLUBS

We are open for older children, keyworker and vulnerable children only.
PRESCHOOL AND CLUBS ARE OPEN TO YOUNGER CHILDREN

04

Jun

2020

8:00 am - 05 jun, 5:30 pm @ ST OSMUNDS PRESCHOOL AND SUNSHINE CLUBS

The preschool is only open for younger children 2 year olds and rising 3's, Keyworker and Vulnerable children.
PRESCHOOL AND CLUBS ARE OPEN TO 4-5 yrs OLDER CHILDREN TODAY

08

Jun

2020

8:00 am - 10 jun, 5:30 pm @ ST OSMUNDS PRESCHOOL AND SUNSHINE CLUBS

We are open for older children, keyworker and vulnerable children only.
PRESCHOOL AND CLUBS ARE OPEN TO YOUNGER CHILDREN

11

Jun

2020

8:00 am - 12 jun, 5:30 pm @ ST OSMUNDS PRESCHOOL AND SUNSHINE CLUBS

The preschool is only open for younger children 2 year olds and rising 3's, Keyworker and Vulnerable children.
CORONAVIRUS
NHS INFORMATION
HOW TO WASH YOUR HANDS PLEASE TEACH YOUR CHILDREN.
https://www.eyalliance.org.uk/coronavirus-info-for-nurseries
Our findings ... although the advice from Public Health England explained how we should deal with things medically, there was little advice for Early Years Leaders about how to manage and deal with all the operational considerations. Thus the trustees needed to make our own decisions and create clear operational guidance for staff and families.
Information for parents and carers
Information on the main symptoms of Coronavirus need to be sent to parents or posted onto the Website.
Parents and carers (and all adults) arriving at the preschool & clubs need to use the antibacterial hand gel.
Parents or carers should not come to the preschool to drop off, or collect, their child if they are unwell. If someone else is sent to collect a child the parent or carer must let the preschool know and use the child's password. This is a requirement of our safeguarding policy.
A parent or carer should not send a child to preschool if they are unwell.
If a child is unwell at preschool we would contact the parent or carer to pick them up. The child would then be looked after in the preschool office. We would require the parent/carer to collect the child as soon as possible.
Preschool have increased cleaning sessions, hand washing sessions and general deep cleaning of toys daily and an increase in available tissues . A new vacuum cleaner has been sourced and our antibacterial mechanical system within the preschool checked and maintained.
These are the procedures of Preschool & Clubs process if parents or carers needed to self-isolate a child in relation to payment of sessions. The main points covered:
If a child remains well throughout the self-isolation period we would make arrangements with parents and carers to try to facilitate extra sessions for their child to attempt to make up the time lost.
We require a letter from a medical professional confirming that parents or carers needed to self-isolate their child and that the child remained well throughout the period of time. This means that they would have been able to attend their usual sessions had they not been in isolation.
If a child is unwell during the period parents and carers would not be eligible for additional flexible sessions as the child would not have been able to attend the sessions they'd missed due to ill health.
We would follow the Guidelines from Public Health England about how a deep clean should be undertaken meant the preschool would be closed temporarily.
Dear parent / carer, 
We wanted to write to you following the national update to COVID-19 regarding school closures as the Government has now provided advice regarding key workers.
The Government announced on Wednesday 18 March 2020 that after early years childcare settings shut their gates on Friday afternoon (20 March 2020), they will remain closed for most pupils until further notice.
This will be for all children except those of key workers and children who are most vulnerable. The Government announced that the scientific advice shows that these settings are safe for this small number of children to continue attending.
Critical workers include NHS staff, police, farmers and food retail workers, who need to be able to go out to work.
In order to continue to offer critical services as part of the country's ongoing response to the virus, children of workers who form a central part of effort - such as NHS workers, police and delivery drivers - will also continue to attend school, college or childcare provision.
A full list of critical workers and further information is available on the gov.uk website:
https://www.gov.uk/government/publications/closure-of-educational-settings-information-for-parents-and-carers/closure-of-educational-settings-information-for-parents-and-carers#critical-workers
If you have any queries about this we would recommend you contact your employer who will be able to provide advice and guidance.
Please be assured we will continue to follow the latest government advice and keep everyone updated via our childcare setting communications.  
We thank you for your support in this matter.
Yours sincerely 
Trudy Surman
Snow days Pre-school
& Sunshine Clubs Closures
Procedures for closure due to snow.
We normally let the Primary School take the lead on whether we are open or not, however that isn't always the case as our circumstances are slightly different;
We are in an outside classroom which has an impact on the building maintaining its temperature; we have two year olds on the premises which because of their age cannot regulate their temperature yet. And in addition we have staff that travel in from different areas of the county. If we do not have enough staff in to meet Ofsted regulations we are not legally allowed to open. So for these reasons we will have to close even if the Primary school was open.
If the preschool & clubs needs to close because of snow these are our procedures;
When children are on the premises, parents will be contacted by telephone, and if necessary, a bulletin will be put on SPIRE FM

Notices will be put up at the Preschool, and two senior members of staff will be on site to explain the circumstances.

At least two members of staff will remain on the premises until all the children have been collected.
In the event of the Preschool & Clubs being unable to open in the morning, i.e. severe weather conditions or breakdown of services; a bulletin will be put on SPIRE FM before 8.00am.
Plus a notice will be posted on our Facebook page and our website- stosmundspreschoolandsunshineclubs.co.uk
If possible notices will be put up at the preschool, and a text will be sent out to all parents by mobile telephone. If you are unsure please text Mobile - 07484087287
Staff updates...
Emily Cope has been promoted to Assistant Manager
John Sheard has completed his Level 4 SEND.
Siddika Begum has completed her Level 5 SEND.
Staff Training Safeguarding & Child Protection 30.08.2019 - 03.09.2019 - 06.01.2020
Teaching training days - All staff had First Aid & Safeguarding Child Protection refresher training
Teaching & Learning 29th August 2019 & 06.01.2020
Anna Ephgrave taught all staff the principles of her teaching 'In The Moment Planning' (please look on our Curriculum page for more information)
SPORTS DAY 2020 TO TAKE PLACE ON FRIDAY 19TH JUNE
SPORTS DAY 2019