REMEMBER... TUESDAY 23rd TEDDY BEARS PICNIC - CHANGE OF VENUE NOW IN THE PIRATES PARK 9.45 AM-11.45 PM ALL WELCOME ... END OF TERM PRESCHOOL FINISHES AT 1PM.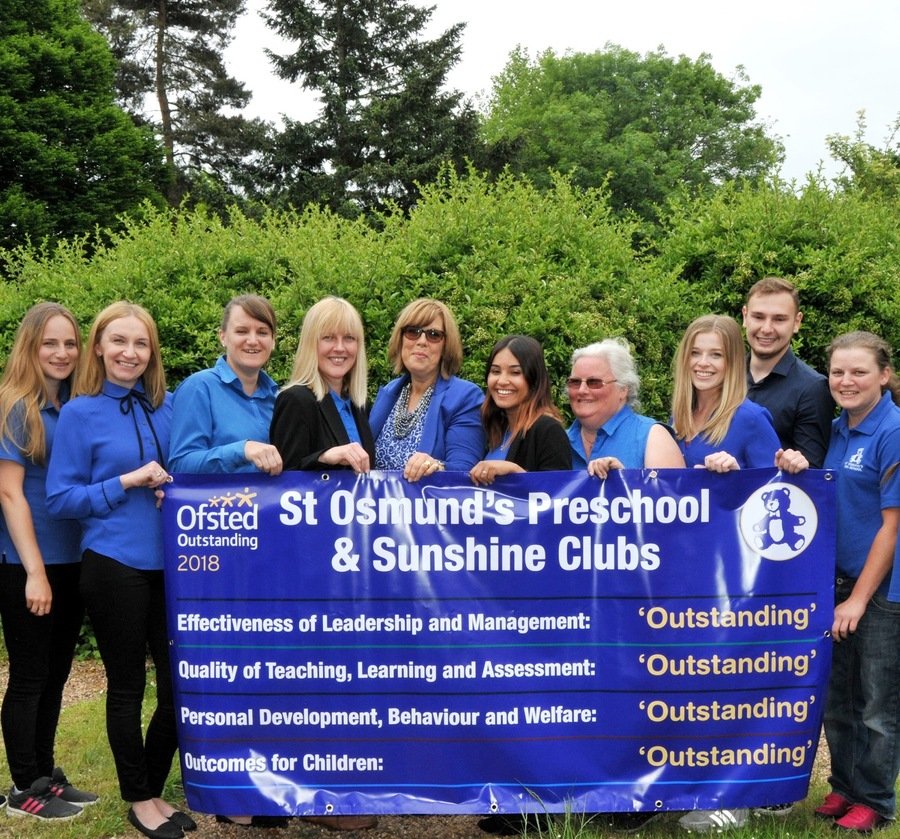 Welcome to St Osmund's Preschool
and Sunshine Clubs
An OUTSTANDING preschool that is dedicated to the learning and development of confident, happy children. Our philosophy puts the individual needs of the children at the centre of everything we do so that your child flourishes in these critical early years.
The preschool is a non-profit charity who welcomes all faiths and is situated in the grounds of St Osmund's Primary school.
Situated in the heart of the historic Cathedral city of Salisbury, Wiltshire.
STATEMENT OF INTENT
NURTURE… LEARN … GROW
St Osmund's Pre-School we provide an environment which supports and values every child, and which recognises their developing independence and individuality.
To give opportunities to inspire, discover and explore through play-based experiences.
To acknowledge that children are natural learners and communicators.
To ensure that every child will be happy and secure in our professional care.
To work together with parents to provide a positive start for children. Children to become confident, independent learners and gain skills which promote a positive attitude to learning.
To build a strong relationship between the local community, to learn about and appreciate our role as part of the national and global communities and to foster an understanding of the importance of being a responsible citizen.
PRESCHOOL DEVELOPMENT PLAN 2018-19.docx
STOP IT NOW! HELP TO STOP CHILD ABUSE
Trudy Surman Expert Panel Nursery resources
Parents Info
News and Events
Latest Pre-School 2016, Sunshine Clubs, School Events Events
POCKET MONEY CHALLENGE

03

Jun

2019

9:00 am - 23 jul, 1:30 pm @ ST OSMUNDS PRESCHOOL

The children will do chores at home and are rewarded pocketmoney which they donate some to preschool. We will see who can collect the most pocket money and the group with the most collected will have an off site treat.
LAST DAY OF TERM

23

Jul

2019

12:00 am - 1:30 am @ ST OSMUNDS PRESCHOOL AND SUNSHINE CLUBS

THIS IS THE LAST DAY OF TERM PLEASE BE AWARE THAT WE CLOSE AT 1.30PM TODAY
SUNSHINE HOLIDAY CLUBS START TODAY

24

Jul

2019

8:00 am - 09 aug, 5:30 pm @ ST OSMUNDS PRESCHOOL AND SUNSHINE CLUBS

HOLIDAY CLUBS START